Thanks to everyone who entered the Quilters Quest giveaway!
I have finally figured out how to post a copy of the random number generator!
Patience was needed, but I got there in the end:)
Mr Random Number Generator has done his stuff and the winner is...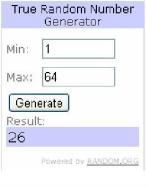 No. 26 - C
ongratulations Heather A!
Check your email!
Just to brighten up your Monday morning - here's a link to another giveaway going on at