If you're based in Ireland why not join? I've filled out my registration form
and think it will be an exciting time for Quilters in Ireland!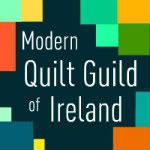 I find myself torn between traditional and modern patchwork and quilting.
On the one hand, I love the traditional work - I just adore folk art inspired patchwork.
On the other hand, I find modern patchwork and quilting styles so fresh and minimalistic.
At the minute, I think I'll sit on the fence and enjoy all styles!
So what's your choice?
Modern or traditional?